Discover more from Misc Adventures Digest
Nature connection, conservation, woodland work and tales of adventures.
Issue # 36 The Misc. Adventures Digest
A round up of summer adventures.
Hello! With the summer holidays over, we're tentatively easing back into our regular cycle of Digests, in which I (Andrew) share stories of slow adventures and the wild things we see in the mountains, lakes and valleys of Cumbria and our fortnightly Nature Happenings, in which Emma takes a deeper look into phenological signals and the species we encounter along the way.
We took a break from writing over the holidays to focus on spending time with our son, Benji. Interestingly, the jury is still out on whether not writing helped us to be more present, or if the act of writing itself helps us to process things, as such leaving us feeling more present and less distracted for having unloaded our thoughts onto paper.
Speaking of paper, we are working behind the scenes on a printed publication featuring tales of our exploits over the summer. It will also feature recipes, artwork, photography and random Nature related musings.
---
How was our summer? Well, despite feeling meteorologically more like autumn, it was pretty good. Full of small adventures, and a few big ones, especially for Benji for whom everything is a bit bigger than it is for us.
Mostly this summer has been characterised by mountains, in contrast to last year's warm summer of swimming in lakes and rivers. Benji's ability in the hills has come on in literal leaps and bounds in recent months. He has found new joy in the mountains too, taking pride in navigating tricky scrambles and making it to the tops. On one recent hike he complained at us for being too slow, which is quite the turnaround.
Here are a few highlights in photos, with brief descriptions where necessary:
The Langdale Pikes
A hot and sticky day. Benji's first multi-summit hike, taking in Pike o' Stickle, Harrison Stickle and Pavey Ark. Also, my birthday.
Harter Fell (Eskdale)
A prominent feature in the local landscape, climbed on a windy, showery day. So windy we could hardly stand up at the top. We crossed a gloriously colourful beck lined with wildflowers.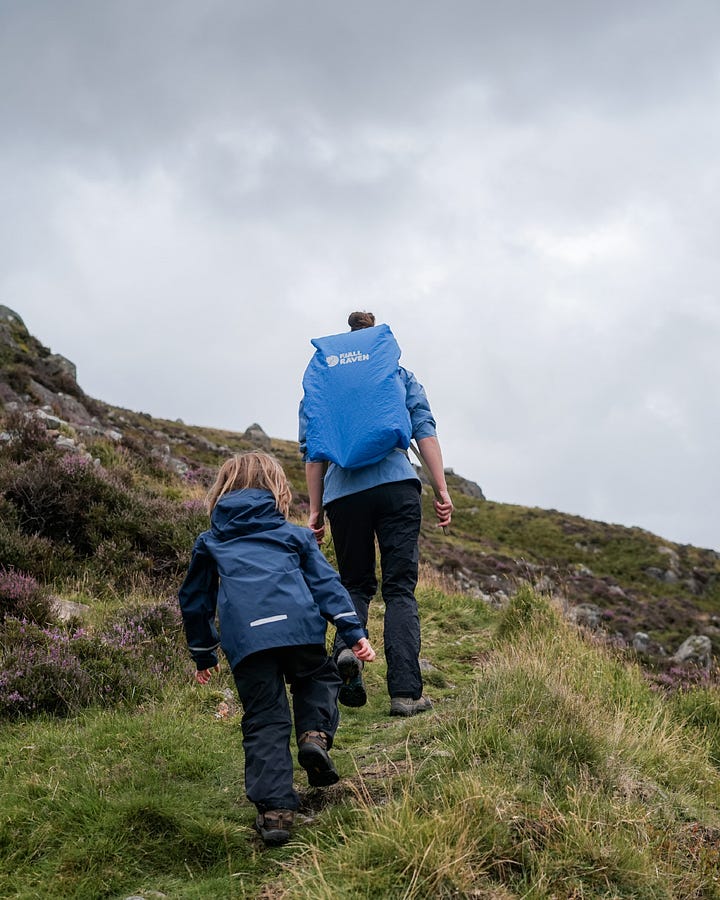 Great Crag (Borrowdale)
Our favourite valley, owing to the swathes of temperate rainforest that cloak the hills. We started in rain and ended in bright sunshine. Gloriously gnarled oak woods on the steep climb up and a magical tarn near the summit.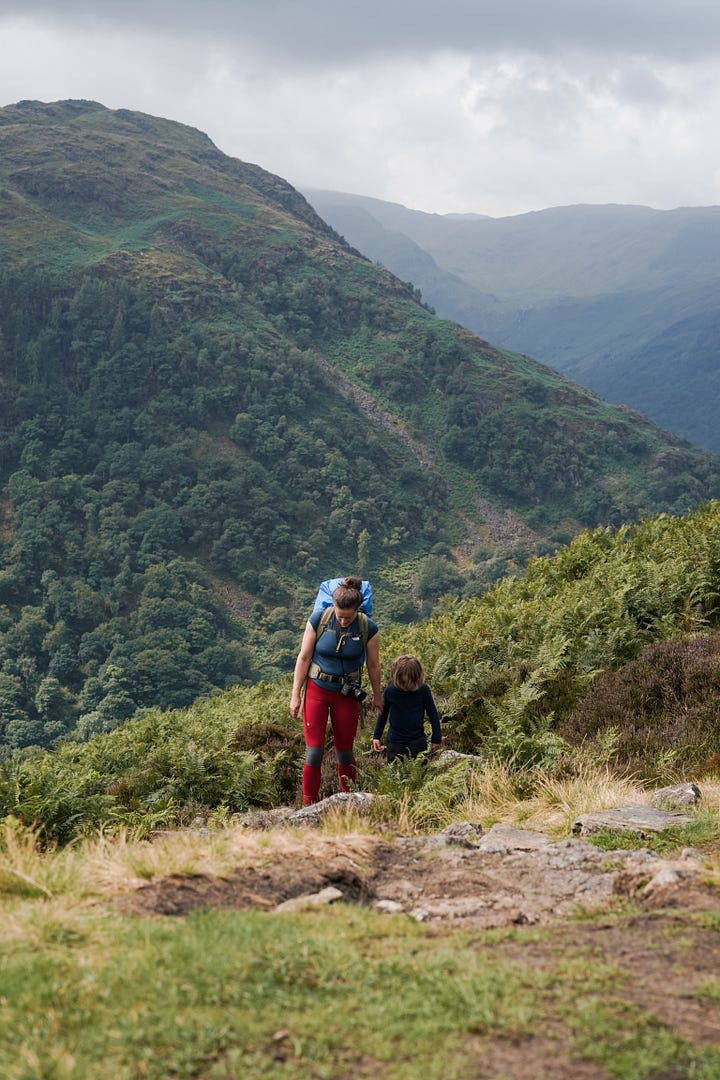 Coniston Old Man
A cold day, feeling near freezing at the top. We're always apprehensive of climbing popular peaks, but we were up early and had the summit to ourselves. Found a patch of the best bilberries we've had all summer.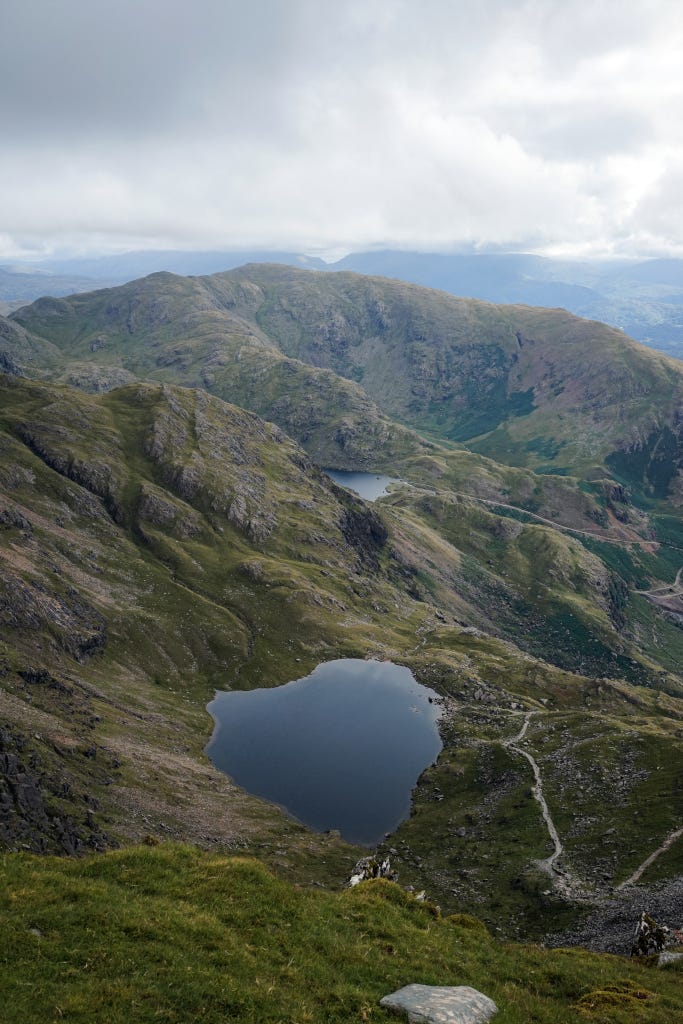 Yewbarrow
Not the highest, but one of the most technically challenging hikes we have done with Benji. Lots of scrambling and rocky climbs, feeling very exposed near the top. We had sun at the start, but thick mist at the summit, which resulted in the first broken spectre we've seen. A fun challenge, but sadly no yew trees on Yewbarrow.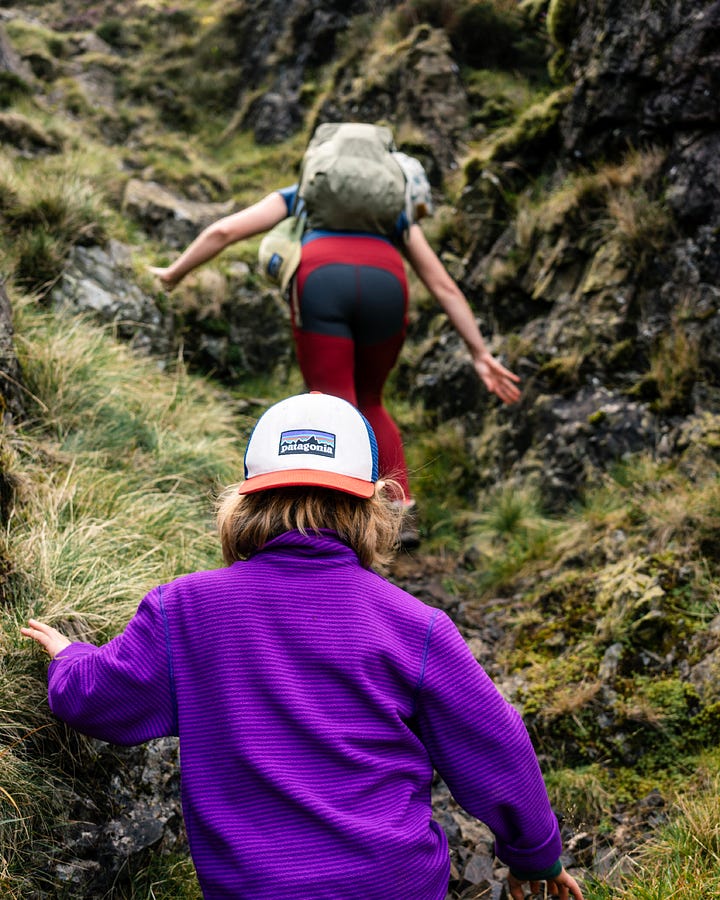 There have been many other small adventures, but these have been our favourites. Please do share tales of your adventures in the comments; we'd love to know what you've been up to.
---
We're sending this from the Netherlands (hence it's a little late in the day), where we're running guided Nature walks and workshops at the Campfire Stories micro festival - which we'll give a full account of soon. It's our first workshop since we moved from the woods, we hope there will be to come soon.
That's all from us for now, stayed tuned for our latest Nature Happenings, coming next week.
With warm wishes,
Andrew, Emma and Benji
x